New Online Slots
New online slots are being introduced regularly. Microgaming, the leading casino software provider releases at least one or two new slot games every month. Real Time Gaming, Playtech and others also launch new slots regularly, but not quite as often.
Because of fierce competition in the online casino world, slot games are getting more inventive all the time. The games become more and more interesting and the jackpots to be won get bigger and bigger.
If you like being challenged by the latest online slots games, this is the web page for you. Visit regularly to find out what's new. Not only will you get screenshots with description of the latest slots offerings, we also tell you where you can find them first. You can be sure that all of the online casinos we recommend are reputable and provide top-notch customer service.
Bookmark this page, it's where you find monthly updates on the latest online slots.
Some of the best new slots released by Microgaming:
DOLPHIN TALE Video Slot It's a whale of a tale with 5 reels and a record busting 40 paylines. You can bet up to 200 coins with the opportunity to win 300 000 coins in return! The zany characters in this truly big and multi-featured video slot are not the only reason to take the plunge! With Wild and Free Spins you have the chance to choose the number and then be awarded a random multiplier that could be as high as 20 x - a great opportunity to reel in more winnings. And once in Free Spins there is a further Extra Wild which randomly appears, boosting the catch even further.
AGE OF DISCOVERY Video Slot This intriguing 5 reel, 25 payline game brings together the magic of modern online gaming technology with the romance and adventure of ancient exploration to distant lands, when brave men sailed across mysterious oceans in a quest for thrills and riches... which is what you will be doing with this exciting and entertaining new slot!
SUPE IT UP is a brand new and advanced 5 reel, 25 pay-line video slot with Wild and Scatter opportunities, a great Free Spin that can deliver 30 freebie spins and even more spins within your spins, a multiplier up to 6x... and a 50-50 Gamble chance! Start off in an old car and when you hit the Free Spin trigger you can win 20, 25 or even 30 free spins, and for each free spin awarded there's a 6x multiplier that's going to impact your winning line. But wait - we aren't putting the brakes on this game's features just yet... you can win more spins within the spins, and with the help of the Wild, winning combinations are doubled. Hit the optional Gamble facility, and winnings can be doubled or even quadrupled!
BARS N STRIPES is as true blue American as pumpkin pie, statue of Liberty and Thanksgiving turkey. This video slot features brilliantly colored graphics that will bring out the patriot in every red-blooded American. This strongly themed, seriously *big* All American slot is on the 5 reel, 25 pay-line platform that has become so popular, featuring Wild and Scatter rewards, as well as a pick 3 of 5 on-screen bonus feature activated when Uncle Sam's top hat triggers this great opportunity to pull in more dollars! So celebrate your heritage in style and give Bars n Stripes a whirl.
MAD HATTERS is a new online slots game with several unique features that you won't want to miss. Mad Hatters has 5 reels and 30 paylines, and the game comes with wild symbols, scatters, multipliers, special bonuses, and free spins. If you're lucky, you could win up to 50 free spins! You get the 50 free spins when 3 or more neighboring Rabbit Magician scatter symbols appear. If you spin 3 adjacent Crazy Cuckoos, this activates an on-screen bonus game. And if the Big Red Top Hat appears, consider yourself lucky! This symbol holds substitute powers that can bring you up to 200,000 coins!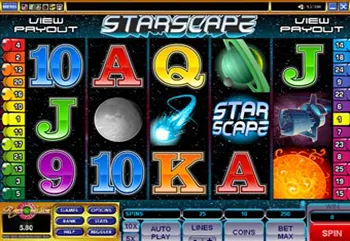 STARSCAPE blasts you into a colorful atmosphere of planets, asteroids, and space ships. This video slot has 5 reels and 25 paylines, and there is a maximum jackpot of 70,000 coins in the base game. Bright and bold Starscape graphics include a giant Jupiter, a brilliantly colored Saturn, a fire-storming sun, some fast moving icy asteroids, and a frost covered Pluto, among others When 3, 4, or 5 Spacecraft Scatter symbols glide across your screen, 25 blocks appear from which you can select a multiplier to super boost your winnings! The Starscape logo is Wild, and this could double your winnings.